I have gone a long time without an addition to the current running series "Addiction is a Global Problem", but there is a reason; I have been pouring myself into this years' National Recovery Month series of events, and primarily the Treasure Hunt and Celebration at Camp Jordan in Chattanooga.
This year for National Recovery Month we are attempting to change from just celebration to celebration, education, and outreach. With multiple events related to addiction and recovery, we want to keep this subject, and solutions, in the forefront of the public attention in a way other than just articles bemoaning overdoses and the rise of addiction.
We want to reach the community and help bring an understanding that may be unfamiliar to them, we want to reach the families that suffer from a loved ones addiction, and we want to reach those still using and show them there is a way out, and life after the struggle.
The best way to overshadow defeat is to shout out success and the best way to achieve success is with a unified community.  Our goal is to begin this year with something new, something fun, and something that works; and grow it into next year so the celebration swells and means more to more people and families.
This year we have brought together two Counties, Hamilton and Bradley, and their health departments;  treatment facilities, and other interested parties to create the biggest event possible and attract as many to it as possible. September 1 was the starting day of the two County Treasure hunt.  Each map location visited earns an entry in the drawing box, and each event attended earns 3 entries in the drawing box.  Many prizes will be awarded.  For those who haven't heard about this yet you can read about at the following link.
There are other events happening during the month which can all be seen on the events calendar at www.piratesprings.org. They include:
Bridging the Gap for a Stronger Community – Suicide Prevention Coalition 9/15
Recovery Works! 5K and Silent Auction – CADAS  9/16
Generation Found Film Screening – Pirate Springs 9/19
Yoga for Recovery – The Trini Foundation 9/23
Attendance at each of these events earns 3 entries in the drawing box.
The Recovery Month Events are capped with a free concert, free comedy show, exhibitors, and more, in  a family atmosphere, including face painting and a bounce house, designed to give hope to those who are hurting either directly or indirectly from addiction.
Our goal is bring at least 800 to 1,000 people together and show that recovery is borne out of hope and the belief that there are people who care, and there is a reason to recover.
The Camp Jordan Event is free and runs on September 23rd from 4:00pm to 9:00pm and promises to be fun, informative, and rewarding. We will be drawing for prizes from the Treasure Chest throughout the day. Entertainment is top notch and did I say FREE.
Bring a lawn chair and weather suitable clothing, pack a meal or buy food from the vendor, and bring everyone you can get in your vehicle!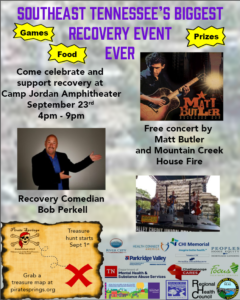 If you have any questions please call or write [email protected] 423-476-4860